The 47th Oktoberfest Race Weekend is catching the eyes of not just only the top Midwest drivers but also a past NASCAR Camping World Truck Series champion and one of the hottest shoes from Michigan.
Travis Kvapil and Brian Campbell have filed entries for four day race event running on October 6, 7, 8, and 9 at the La Crosse Fairgrounds Speedway in West Salem, Wisconsin.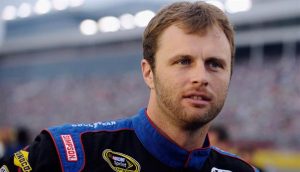 Kvapil, the Janesville, Wisconsin native and 2003 NASCAR Camping World Truck Series Champion cannot wait to get back to Oktoberfest after a 16-year hiatus. The last time he raced at Oktoberfest was on October 8, 2000 when he finished second to Steve Carlson in NASCAR Midwest Series 200-lap event.
"I think it's been since 2007 since I ran a Late Model, so it's been a while," Kvapil recalled. "I have been missing the Late Model racing and this all fell together and I am pretty excited.
"Oktoberfest is the biggest race in the Wisconsin area. It kind of puts a wrap on the season. I remember going there the first couple of times; it is such a big event. The car count was always big. I remember how excited I was to make the race the first time. As the years went by, I got faster and better and was a contender."
Kvapil will be driving for Wes Coon Motorsports in the Dick Trickle 99 presented by JE Pistons and the ARCA Midwest Tour's Oktoberfest 200.
Campbell is coming over from Wyoming, Michigan to compete at Oktoberfest for the first time in his Super Late Model, fresh off of a CRA Super Series victory at Lucas Oil Raceway in Clermont, Indiana.
This will mark his second visit to Oktoberfest after an 11-year break. He competed in the ASA Late Model Series 100 on October 7, 2005 where he finished 14th.
"I always enjoy racing against the Wisconsin drivers, they are just good racers. There is a lot of respect and nice competition," Campbell said. "I remember racing there as a kid and I didn't have the best time there, was involved in a scuffle. But I always wanted to come back there and want to do it again."
He also is planning in competing in the Trickle 99 and Fest 200 events. He also said he may run the Futures race, but will be a "game time" decision.
Campbell is looking forward competing under the unique format of the Dick Trickle 99 presented by JE Pistons.
"I haven't gotten my brain wrapped around it a 100% yet, I understand how we have to win it. You have to drive like hell and get to the front," Campbell chuckled. "It's all about the points because you can win the race without really taking the checkered flag. It will be interesting."
The official kickoff of the 47th Annual Oktoberfest Race Weekend will happen this upcoming Monday, October 3rd at noon with the opening of the campground on the La Crosse Fairgrounds.
A total of 17 divisions will be competing over the four days of racing action starting on Thursday, October 6th.
More information can be found at www.oktoberfestraceweekend.com.